Anti-Semitism
Father Caughlin
by Ben Shahn
Catholic priest Father Charles Coughlin became nationally known in the 1930s as a radio speaker, famous for denouncing organized labor, the New Deal, and Jews.  His radically conservative views were an easy target for artists such as Shahn. 
Shahn's painting shows Coughlin as a fanatical speaker, fist raised and head twisted into a pose not unlike Adolf Hitler's. 


Learn more about this artist: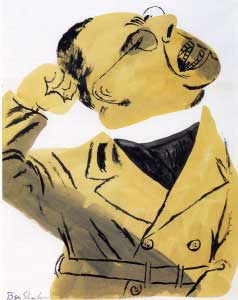 Ben Shahn, Father Coughlin, 1939.  Ink and wash on paper, 15 ½ x 12 in.
Museum Purchase, Derby Fund, from the Philip J. and Suzanne Schiller Collection of American Social Commentary Art 1930-1970