Race Relations
Alabama Code
by George Biddle
Biddle's Alabama Code is a direct allusion to the Scottsboro Nine trial, where nine African American boys were falsely accused of raping two white girls. 
The girl in the lithograph represents one of the accusers, while the man on whose lap she sits symbolizes the white, male elite of the south.  Biddle shows the girl as promiscuous, hinting she may have been the seducer instead of the victim. 


Learn more about this artist: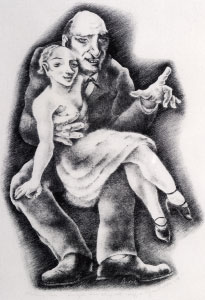 George Biddle, Alabama Code. 1933.  Lithograph, 13 ⅜ x 9 7/16 in.
Museum Purchase, Derby Fund, from the Philip J. and Suzanne Schiller Collection of American Social Commentary Art 1930-1970