Lynching
Strange Fruit
by Boris Gorelick
While Gorelick's lithograph shares its title with Lewis Allen's famous song, Gorelick's inspiration actually came from a specific newspaper story he read: a young black man was seized from his house by a group of white men lead by the local sheriff, then dragged to the jailhouse and given to a mob of Klansmen. 
The man was lynched on a nearby tree, and later discovered by his wife.  Gorelick's abstracted lithograph was meant as "a personal statement of outrage and protest" at this event.


Learn more about this artist: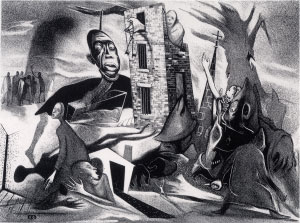 Boris Gorelick, Strange Fruit, 1939.  Lithograph, 10 ⅜ x 13 ⅞ in.
Museum Purchase, Derby Fund, from the Philip J. and Suzanne Schiller Collection of American Social Commentary Art 1930-1970