Urban Poverty
American Faces, New York
by George Gilbert
George Gilbert's photo highlights Franklin D. Roosevelt's tremendous popularity. The only president to serve more than two terms, Roosevelt was President for four consecutive terms until 1945 when he suffered from a stroke and died.

During his campaign against Hoover, who was running for a second term in 1932, FDR promised to instill a plan for economic recovery he called the "New Deal." Upon election, Roosevelt implemented his New Deal, which enacted numerous pieces of legislation and policies that helped Americans survive the Depression.

Does this photograph say anything about FDR's popularity?



Learn more about this artist: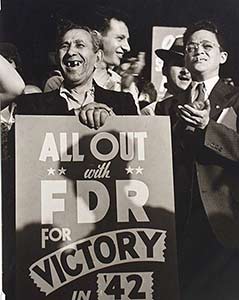 George
Gilbert
, American Faces,
New York
, c.1940, Gelatin silver print: 9¼ x 7 3/8 in.
Photo League Collection, Museum Purchase with funds provided by Elizabeth M. Ross, the Derby Fund, John S. and Catherine Chapin Kobacker, and the Friends of the Photo League.