Urban Poverty
Jobless Man
by Francis Chapin
Chapin, an Ohio native, was trained at the Art Institute of Chicago where he became an instructor in lithography. He spent most of his life in Chicago.  His skills as a printmaker are evident in this depiction of an unemployed man killing time over a cup of coffee at a lunch counter, a scene he no doubt witnessed often in Chicago.
Why do you think Chapin utilized such a rough texture in his print?


Learn more about this artist: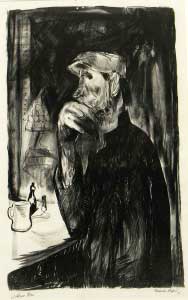 Jobless Man -
Francis Chapin. 1938 Lithograph, 12 x 8 in.
Museum Purchase, Derby Fund, from the Philip J. and Suzanne Schiller Collection of American Social Commentary Art 1930-1970